Prices are the average nightly price provided by our partners and may not include all taxes and fees. Taxes and fees that are shown are estimates only. Please see our partners for more details.
Đang xem: Tuấn vũ homestay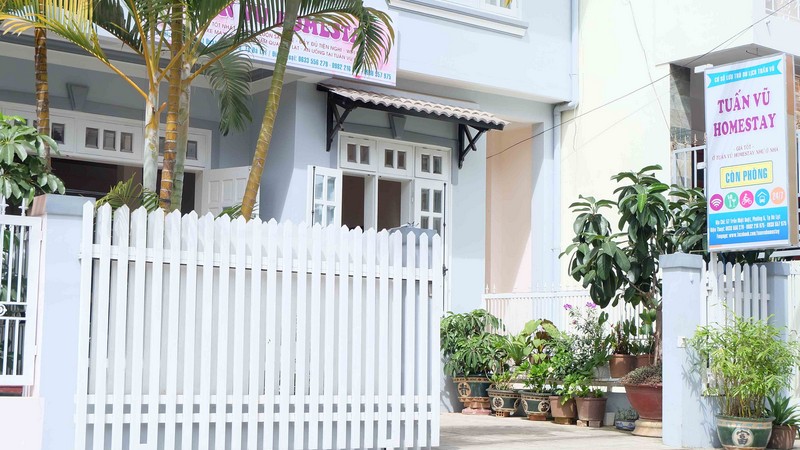 Tuan Vu Homestay is an excellent choice for travelers visiting Da Lat, offering a family-friendly environment alongside many helpful amenities designed to enhance your stay.
The guest house offers a 24 hour front desk and baggage storage, to make your visit even more pleasant. The property also features a snack bar. Guests arriving by vehicle have access to street parking.
While staying at Tuan Vu Homestay, visitors can check out Linh Son Pagoda (0.6 mi) and Bao Dai's Palace (0.9 mi), some of Da Lat's top attractions.
When you're feeling hungry, be sure to check out Emai Dalat, Wooden House, and The Seen House, which are some Italian restaurants that are popular with locals and out-of-towners alike.
Best of all, Tuan Vu Homestay makes it easy to experience many great Da Lat attractions like Datanla High Rope Course and Park Prenn, which are some popular parks.
Enjoy your stay in Da Lat!
Read more
Full view
Property amenities
Free parking
Free High Speed Internet (WiFi)
Outdoor pool
Snack bar
Bicycle rental
Children Activities (Kid / Family Friendly)
Airport transportation
Business Center with Internet Access
Parking garage
Shuttle bus service
Car hire
Baggage storage
Currency exchange
Non-smoking hotel
Shared kitchen
Shared lounge / TV area
24-hour front desk
Laundry service
Show more
Room features
Clothes rack
Bath / shower
Hair dryer
Room types
Bridal suite
Family rooms
Good to know
HOTEL STYLE
Budget
Family
Languages Spoken
English, Chinese, Vietnamese
Location
Full view
77Somewhat walkable
Grade: 77 out of 100
40Restaurantswithin 0.3 miles
5Attractionswithin 0.3 miles
Contact
57 Tran Nhat Duat Street, Ward 5, Da Lat Vietnam
Name/address in local language
Getting there
Lienkhang Airport14 miSee all flights
Nearby restaurants
One More Cafe
655 reviews
6 minCafe
Emai Italian Restaurant & Gardens
229 reviews
6 minItalian
Restaurant Ichi
123 reviews
6 minJapanese
Heyla Cocktail Bar
428 reviews
6 minBrew Pub
Nearby attractions
Domaine de Marie Church
124 reviews
6 minChurches & Cathedrals
Ecotourism Destinations Hoa Son Dien Trang
13 reviews
1 minParks
Phong Tra Hoi Ngo
2 minCoffeehouses
Hai Cay Tung
5 minDance Clubs & Discos
See all nearby attractions
Compare More Popular Hotels
5Reviews0Q+A0Room tips
Reviews
Write a review
Traveler rating
Excellent2Very Good0Average0Poor0Terrible3
Time of year
Mar-MayJun-AugSep-NovDec-Feb
Traveler type
FamiliesCouplesSoloBusinessFriends
Language
All languages(5)English(5)
Selected filters
Filter

kstephenson wrote a review May 2019
Lincoln, United Kingdom7 contributions4 helpful votes
Would not stay again
Would not recommend, rooms smelt of smoke and were very damp, right next to busy road and curtains are thin so light comes through early, didn't get a good night's sleep. Very dusty. Closes at 11:30pm in evenings so can't stay out later, not in a great location. We had to pay for two nights because we booked through booking.com but we checked out after the first night. Not good value compared to other places we stayed in Vietnam which were clean etc
Read more
Date of stay: May 2019Trip type: Traveled with friends
Helpful
Share


srhziel wrote a review Aug 2018
Cambria, California2 contributions2 helpful votes
Bad booking
Never go or book for this place.. please.. bad young guy.. moistured room.. bad smell… no respect costumer.. they dont care about what you say…unbelievebal…shame about the welcome attitude after a long trip and rainy day..
Read more
Date of stay: August 2018Trip type: Traveled solo
Helpful
Share


NelsonMonk38 wrote a review Apr 2018
Guelph, Canada21 contributions7 helpful votes
Clean, good value, nice staff
We really enjoyed our stay at Tuan Vu Homestay! The room was large and clean. They cleaned our room while we were gone everyday (new towels and sheets, arranged our shoes, folded loose clothes and organized the room)! There was shampoo and other toiletries available. No AC but there was a fan and that was enough for Dalat -we would turn in off at night because it was too cold haha. Overall a very easy stay. We even booked an extra night without any issues. We booked during the week and for a large single room with a double bed and private washroom it came to $8 a night(for two ppl). The location is great, close to everything with a short walk.
Read more
Date of stay: April 2018Trip type: Traveled as a couple
Helpful
Share


AndyH531 wrote a review Mar 2018
Chiang Mai, Thailand140 contributions13 helpful votes
Very nice Place
Very nice big comfortable room, the guy who runs the place is friendly and very helpful, and he speaks very good English. The hotel has easy access to everything the city center is only a few minutes walk, there is very nice coffee shop 10 meters away, very easy for everything, nice local inexpensive restaurants in the same street.
Read more
Date of stay: March 2018Trip type: Traveled solo
Helpful
Share
signi c wrote a review Apr 2017
Comox, Canada7 contributions7 helpful votes
Booked a room and pretended he didn't get reservation
We booked a room through booking.com ( never had a problem with them before). The hotel manager pretended he didn't get the reservation and sent us off to his "friend's" homestay about 20 minutes outside of the town. This place was leaking gas and had very basic accommodations. Was doing her a favour by sending us and we were charged the same rate for her hotel even though it should have been a much cheaper price. He said he was "over booked" …beware if you book with him and he tries to pawn you off on his friend.
Read more
Date of stay: March 2017
Service
Trip type: Traveled with family
Helpful
Share
Not the right property for you?
There are more places to choose from in the Da Lat area.
See all properties
PRICE RANGE
$11 – $29 (Based on Average Rates for a Standard Room)
LOCATION
VietnamLam Dong ProvinceDa Lat
NUMBER OF ROOMS
3
Is This Your travelhome.vn Listing?
Own or manage this property? Claim your listing for free to respond to reviews, update your profile and much more.
Xem thêm: Book Tavan Chopai Homestay, Sapa, Tavan Chopai Homestay, Sapa
Claim Your Listing
Frequently Asked Questions about Tuan Vu Homestay
Which popular attractions are close to Tuan Vu Homestay?
Nearby attractions include Domaine de Marie Church (0.3 miles), Ecotourism Destinations Hoa Son Dien Trang (0.04 miles), and Phong Tra Hoi Ngo (0.05 miles).
See all nearby attractions.
What are some of the property amenities at Tuan Vu Homestay?
Some of the more popular amenities offered include free wifi, free parking, and airport transportation.
See all property amenities.
What food & drink options are available at Tuan Vu Homestay?
Guests can enjoy a snack bar during their stay.
Learn more.
Is parking available at Tuan Vu Homestay?
Yes, free parking, a parking garage, and secured parking are available to guests.
Learn more.
What are some restaurants close to Tuan Vu Homestay?
Conveniently located restaurants include One More Cafe, Emai Italian Restaurant & Gardens, and Restaurant Ichi.
See all nearby restaurants.
Are there opportunities to exercise at Tuan Vu Homestay?
Yes, guests have access to an outdoor pool during their stay.
Learn more.
Does Tuan Vu Homestay have an airport shuttle?
Yes, Tuan Vu Homestay offers an airport shuttle for guests. We recommend calling ahead to confirm details.
Learn more.
Is Tuan Vu Homestay located near the city center?
Yes, it is 0.5 miles away from the center of Da Lat.
See all nearby attractions.
Which languages are spoken by the staff at Tuan Vu Homestay?
The staff speaks multiple languages, including English, Chinese, and Vietnamese.
See all property amenities.
Are there any historical sites close to Tuan Vu Homestay?
Many travelers enjoy visiting Bao Dai's Palace (1.1 miles) and Dinh 1 Da Lat (2.6 miles).
See all nearby attractions.
Xem thêm: yên homestay đà lạt
$ USD
United States
Terms of UsePrivacy and Cookies StatementCookie consenttravelhome.vn Plus Subscription Terms & ConditionsSite MapHow the site works
Some photos provided by VFM Leonardo.
This is the version of our website addressed to speakers of English in the United States. If you are a resident of another country or region, please select the appropriate version of travelhome.vn for your country or region in the drop-down menu. more